Your child's state, district, and school is committed to providing high-quality instruction and support to promote the highest achievement of all students. At the school level, Response to Intervention is a framework used to maximize the success of all students.
In general, Response to Intervention includes:
Multi-tiered levels of support
High-quality instruction designed to meet individual student needs
Universal screening to identify students needing supplemental support
Multiple tiers of academic and behavioral support that are progressively more intensive
Evidence-based interventions matched to student need
Ongoing progress monitoring of student performance
The following resources provide more information about Response to Intervention.
The Response to Intervention for Parents and Families training module is to ensure a common understanding of Response to Intervention (RTI) by families, communities, and educators. Research shows that when families and communities support children at home and at school, children do better in school. Collaboration and communication with teachers and schools around these supports is critical for student success in both academics and behavior.
Arkansas Department of Education: Family & Community Engagement
The Arkansas Department of Education recognizes and supports families, the child's first and most important teachers, as essential partners for student success through engaging in meaningful communication to provide an effective learning experience for each student. The Arkansas Family and Community Engagement Coalition fosters partnerships among students, families, schools, and community assets across the state to minimize barriers (academic, personal, social, and health) through the creation of birth to grade 16 framework.
The Center for Exceptional Families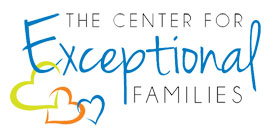 The Center for Exceptional Families (TCFEF) assist Arkansans with disabilities in attaining an exceptional quality of life by providing resources and support to individuals and families. The TCFEF team consists of mentors, parents, and advocates that strive for positive outcomes for those with disabilities, including their families.
Teresa Hendrix is the TCFEF representative on the State Personnel Development Grant (SPDG) Core Management team where she functions as the Family and Community Liaison. Teresa will assist State educational agencies in reforming and improving their systems for personnel preparation and professional learning to improve results for students with disabilities.